Weekend just gone (Oct 29/30) Bill paid FTC a visit to help me complete the first stage of the racecar shack build.
This
is where we got up to last time if you don't remember.
In the few weeks since his first visit I'd sorted 8 metal roofing sheets, the 'special' nails for the sheets, as well as the hangers and wood for us to erect another joist.
Friday night was a little later than planned, and that plus an early Saturday morning F1 Quali session saw us a little slow to start. We quickly realised we were light on wood for the noggings so decided on a swift visit to wickes ... and calculated en-route (with the use of a dusty Benz dashboard) that if we could get 360cm lengths of wood we would be able to notch them - and the joists - and get everything to interlock nicely. This was a little too much use of the little grey cells for such an early hour, and so after loading the wood into the Benz we dived into the adjacent fast food retaurant for a flame grilled wopper!
Once we got back lunch time was fast approaching and so we got busy erecting the second joist;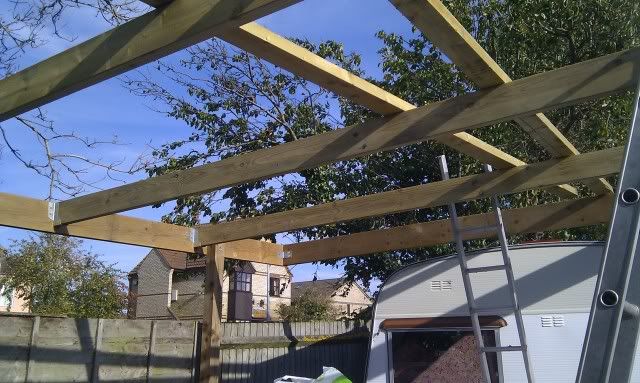 and then notched our first nogging;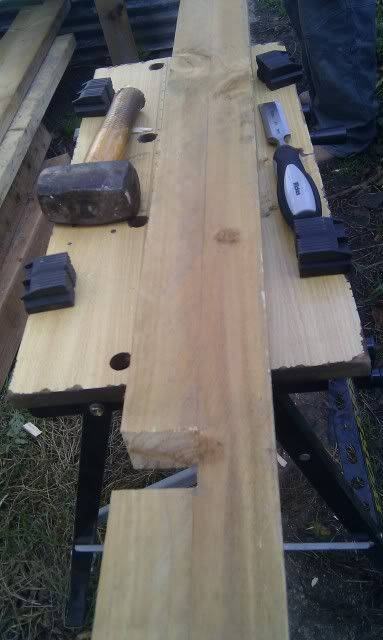 followed by notching of the joists;
and nogging No1 was in place by the time round two of burgers were ready (this time flame grilled on the Barbie!)
With one already done we were quickly into our rhythm;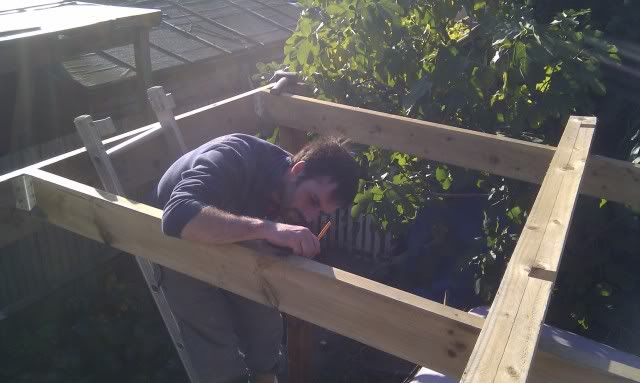 and the remaining notching went super fast ... but it always helps when Tim from next door passes over a couple of pints!
With the woodwork complete it was time to throw the tin sheets up!
And 45 mintes later we had a full roofed front section of the shack!
Now's time to get the Fig Tree moved, and then the rest of the shelter can be erected up to the barn. More tin sheets will go down to extend the roofing and it'll be an awesome usable waterproof space! By the end of the day Bill and I were pretty proud of our achievements, its just a shame this photo only accomodates one - thanks though mate, I couldn't have done it without you!!