Last weekend the calendars clicked over to October. I suppose that really marks the start of Autumn, but due to the freak 30+degree heat it was more like summer than anytime during June, July or August!
I was loving it, happier than a shark at a surf festival, and with a perfect weekend already planned the weather would prove to be the icing on the cake.
Due to post-Gathering activities I hadn't even made it to a single Villa home Premier League game this season, but with my Dad out of the country I had been left the pair of season tickets and I had no intention of missing the game on Saturday. The only spanner in my plan was the fact Tash was away at the NCT AGM for the day. Due to the wonders of social media I learn my pal Nathan was 'home alone' for the weekend and so invited him to join me for the day ... and help me try and keep Alfie reigned in! Part of me was dreading it, but mostly I couldn't wait to take Alfie to Villa Park for the first time.
All in all we had a cracking day - whats better than football in the sunshine!? Alfie slept on the way up, we arrived just before kick-off giving just enough time to grab a photo, a programme and of course his first Aston Villa scarf!
The game flew by, and Alfie found himself easily amused; mostly by the people around him, bouncing beach balls in the crowd, or birds that he thought he could see. With Villa rounding out 2-0 winners there was plenty of opportunity to clap which also pleased him a lot!
Sunday rolled round, a date I had been massively excited about for a long time. It was time for me to collect some more ink!
I had spotted the picture of the clown in the art store based above Casemates in Gibraltar back in 2007 - oddly enough the same place and same time as Tash found the image of her 'birds' that she had tattoo'd. I loved the image right away, it just made me smile. It kinda said to me to keep a smile on your face, even when the world is pissing down upon you. And as time passed this image kinda grew with me, and always seem relevant and appropriate to my life. The clown / the entertainer / the stay at home Dad, and the ducks as the family. I think that comes back to something I heard Tash say years ago, something about "no-one cuts up her ducks". That's why there is only one duck - to represent Alfie - and others will be added as future children arrive.
My only problem was Tash finds clowns freaky, and so didn't have the same affection for the picture that I did. I dunno if I just wore her down or if she changed her mind but eventually I managed to make the comment "I'm gonna have my clown tattoo'd" and I didn't get the response "I'll divorce you if you do!". And with that a deposit was laid down (thanks Sal!) and come Sunday I was ready to go under the needle once more.
We jumped on the train;
and whilst Alfie slept we found a lovely little Sushi place down Camden Lock;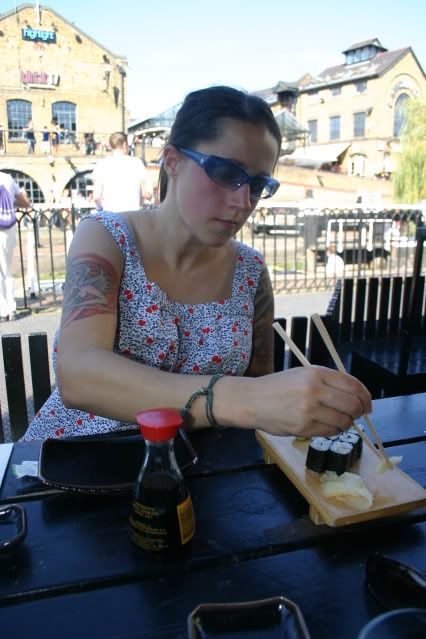 of course it wasn't long till he woke up and joined us for some food;
saw a lovely poo-brown Porsche 911;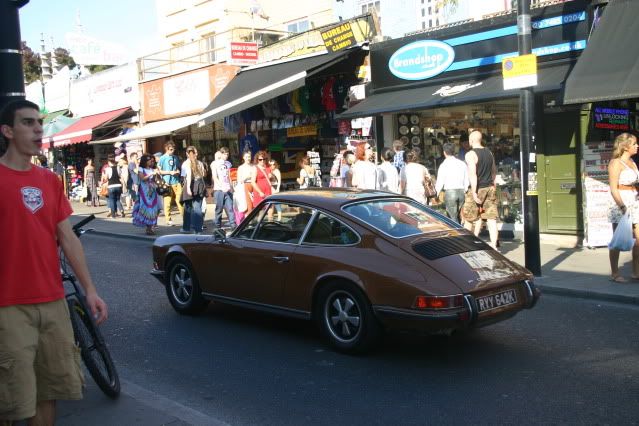 before arriving at Evil From The Needle, the shop where Jeff Ortega works from (and owns).
It was lovely to just sit down and chill whilst being tattoo'd ... and whilst Alfie ran Tash ragged for a change! Does that say something, that I'd rather have a man stick needles in me than be in charge of my son?? lol. Jeff let me take some 'in progress' shots;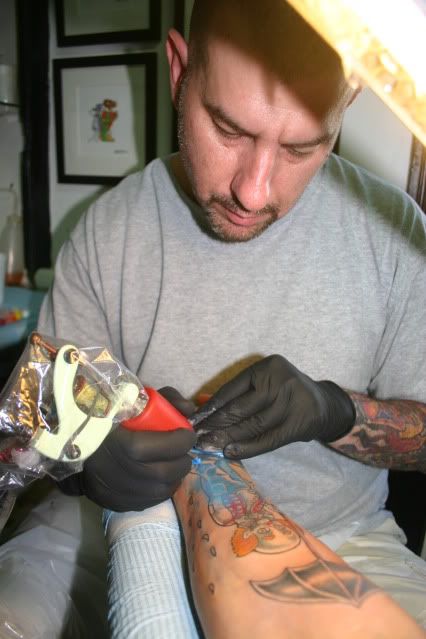 And here's the finished piece, I am absolutely over the moon with it! Jeff, if you read this, thanks man!!!