Ever since Arsenal moved from Highbury to the Emirates I've been longing to visit North London to see what the impressive looking stadium was all about.
Our train line into London runs right past it, and our numerous trips to Camden Town had hit home on the visual impact front. And with it being just 25 minutes on the train it meant it was the closest stadium for me to be able to watch Villa. I had been meaning to go last season, but my adventures in the Great British Bake Off meant I missed my chance and so when Villa were drawn against Arsenal in the 4th round of this years FA Cup I was straight on the phone to my Dad to see if he fancied it.
Tickets secured, the 29th January soon came round and before I knew it we were exchanging welcomes at Finsbury Park station.
Following the crowds we made our way round to the stadium, and before long it rose from the North London terraces.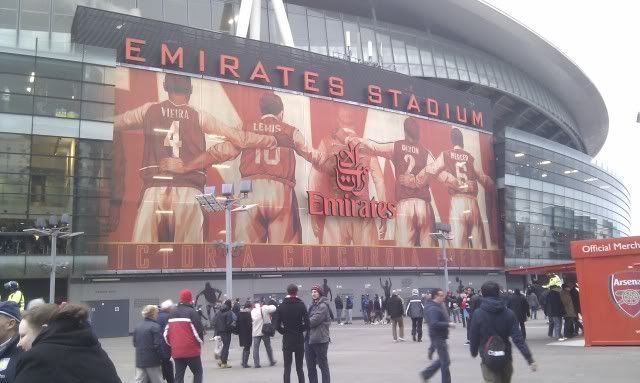 Once inside, and with a beer inside us, we made our way to our seats ... which were actually pretty good, even though we were tucked into the corner which can be a right P.I.T.A.
It was a hell of a day. The 5000 away fans were immense, and the first 45 minutes were spent continuously singing songs and jumping about. It helps when you go 1-0 up after 30 minutes, and then whilst preying we might hold on we go 2-0 up on the stroke of half time. I completely missed Darren Bents goal too. Villa hit Arsenal on the counter attack and with Benty one-one-on with the keeper his shot was saved. I had my head in my hands kicking the seat in front when all of a sudden the Villa fans started celebrating. At first I thought the ref had just blown for half time, then I wondered if we somehow had a penalty, and finally it dawned on me we'd scored a second! I guessed that after his shot was saved it must have rebounded out and he tucked the second chance away from a tight angle ... but I never really knew till I saw the highlights that night!
Sadly we came out for the second half looking like we were just waiting for Arsenal to score. And that they did. Three times. And so we lost 3-2, but after the poor attendances and atmosphere that has been witnessed at Villa Park sometimes this year it made a real refreshing change. The result aside it was without doubt the most enjoyable day at the footy i've had this season!
It had been a while since I did an away game, and I didn't realise how much I missed the relentless away fan enthusiasm and banter. Even for a McLeish managed Aston Villa! It certainly won't be long until I'm visiting another away ground to see Villa play away cos its games like these that you remember for the rest of your life.