After visiting Evil From The Needle for my
clown tattoo
back in October I spent a while speaking to Tash about how I would love a piece from Mark Ford.
Mark has a real unique and crazy style, and pretty much everything I've seen via his blog or on
Facebook
has had my jaw on floor exclaiming how freakin' cool it is!
My problem was a lot of my ink is planned, and I couldn't work out what to have him do or where it would go. But checking his blog a few days later had my mind buzzing - he was introducing "Freehand Friday", a time where he tattoos, on his day off, something he wants to do - freehand - and charges minimum price for.
We were back in Camden during November for Tash's birthday and I popped into the shop to have a chat with him to learn how he did things (re: Freehand Friday) and when we could arrange an appointment.
A date was set for early January, which got bumped a fortnight, and ended up being the 20th - two weeks ago. I had thrown a few ideas his way, but was really flexible as I just loved the idea of letting him run wild with what he wanted His artistic mind wanders down paths I never knew existed! I can see how such a lack of guidance or direction from a client would really frustrate an artist, and I hope it didn't piss him off too much - but a week or so before the appointment I saw him post about his desire to do a skull jellyfish. Now I like skulls. And I like creatures of the seas. So I threw him a message announcing my approval of that kinda idea.
Friday 20th rolled around and I was on a train as early as the family would allow and down to Camden in really good time. Mark and I had a quick chat about the ideas we had discussed, and we agreed to opt for the Skull Jellyfish to be placed down my left calf. Mark had even drawn up a stencil, which I really hadn't expected, and I could see straight away it was gonna be as mind blowing as all his other work.
Mark got his station set up and soon we were ready to get underway.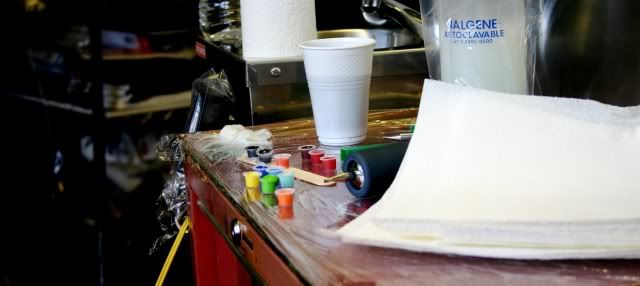 It was real nice for me to know that both of us had the day free, so there was no pressure coming from the clock, and I had the privilege of someone with his artistic talent running free on my leg with ideas that entered his head.
I've done a few long sessions in my time, but I think I must have been under the needle for about five hours - way longer than I had anticipated Mark to give me (in a good way) and the level of detail he put into it really blew my mind. And here's the finished piece. I absolutely love it and I'm pretty sure it won't be the last time Mark makes my skin more colourful!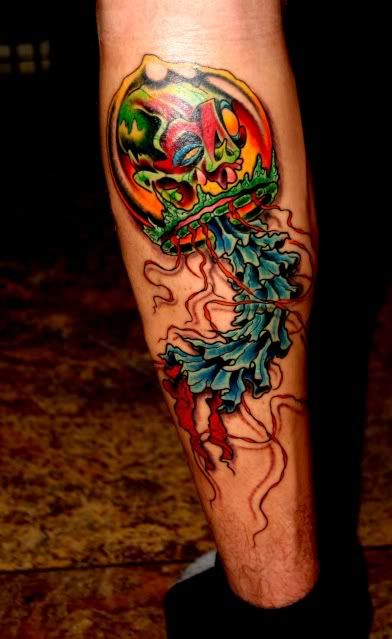 I walked home in complete comfort, amazed at how good my leg felt after the abuse it had taken. And then had the next week of random shooting pains going down the back of my leg! You just gotta love the healing process!