I have wanted to go to Race Retro for a number of years, but for some reason things never seem to fall into place. Its considered by many to mark the start of the show season, and its a real hub of activity and show stopping cars for the classic and retro enthusiast.
With all the 'show' it also tries to add a little 'go' with an operational rally stage, and this year a fire-up of some old Honda race bikes. With me attending with an eye on the Gathering, and us having two kids in tow, it meant we decided to head up on the Friday (24/02) in an attempt to miss the crowds - but also knowing it would mean we would also miss the rally action too as that only ran on the weekend.
Once we'd managed to find the car park (some funny fcuker had been messing with their signage!) we got ourself inside and settled down in the cafe that is just inside the entrance. It was feeding time for Esme and so as Tash got ready and I held Esme I grabbed a quick photo of the pair of us ... and then Alfie and I disappeared inside the first hall!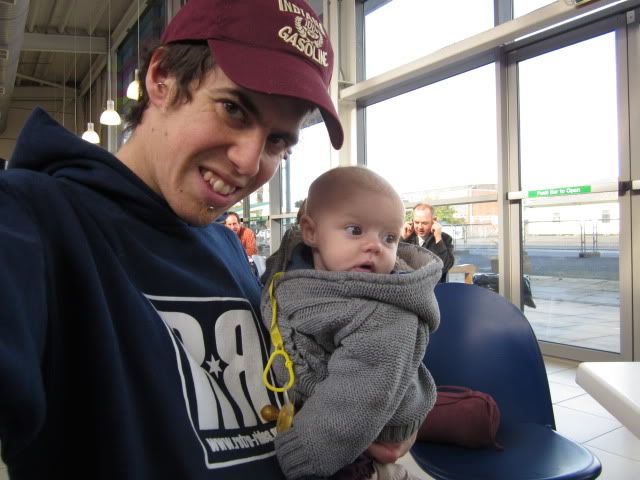 I spent a lot of time talking to people. Either people who I already knew, or people who I thought could add something to the Gathering. It meant I didn't get loads of photos, but there were a few times I went scrambling for the camera in my back pocket. One such occasion was seeing the Porsche Group C cars and also the promotional stall for the various Classic & Sports Car series.
Alfie even presented me with one of those must have 'father-son' photographs when he sat himself down next to a single seater.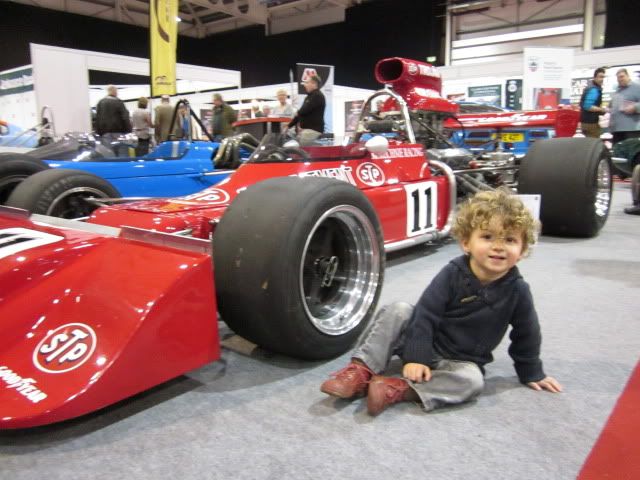 There is a fantastic selection of traders at the show and we even managed to find someone who was selling toy cars made by the French company Vilac. We bought Alfie one of these when we were in Le Mans 18 months ago and jumped at the chance to grab another.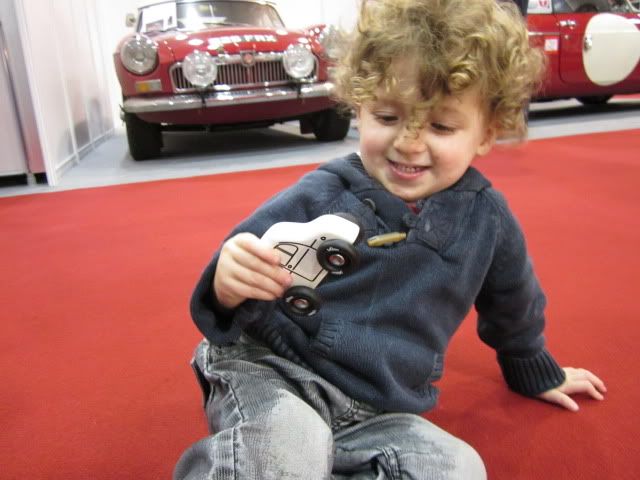 Eventually we wandered into the hall that housed the two wheeled exhibitions and immediately Tash and I commented that this hall was 'much more us'. It just felt more relaxed and laid back, and not quite so 'stiff upper lip' as the other halls had been. Steve Parrish was there doing announcements and such like, but with it being Friday it was very quiet. He was there with his old GP bike and I jumped at the chance to have a photo with him and Alfie and a quick chat about the forthcoming MotoGP season. Incidentally, Alfie drew Steve into the thumbs up, I'm sure he doesn't usually go around looking super enthusiastic to the cameras!
We managed to time things perfectly, and within minutes it was time for the fire up of the old Honda. I have to say they were immense. Alfie loved them ... just a shame he freaked at the start and as a result we lost our space at the front. You may not be able to enjoy the video so much, but you can't help but love the audio!