With such a fantastic forecast for the week I had made comment that I wanted to go to the beach ... and that day ended up being today! We only decided in the morning, and Tash had to be out at some mothering convention this morning so it was only going to be a flying visit ... but a chance to give Esme her first paddle in seawater - on her 6 month birthday(?) - was too good an opportunity to miss.
And so it was that by 1pm we were in McDonalds. Yes, you did read that correctly. But time was short and road snacks/lunch was essential!
The chosen destination was Walton-On-The-Naze, a place I always used to holiday when I was a child and even with me living about as far inland as you can get in this country its still one of the closest places by the sea to me!
With many childhood memories I was really looking forward to take our kids there, and I had long wanted us to have a day away that could end in fish and chips by the sea. Although sure the beaches would still be lovely I was sure the place wouldn't be as I remembered it ... now some 20 years ago in the distant past!
Some things just never change though! I'm not even convinced the poor old pier's had a lick 'o' paint in all those years!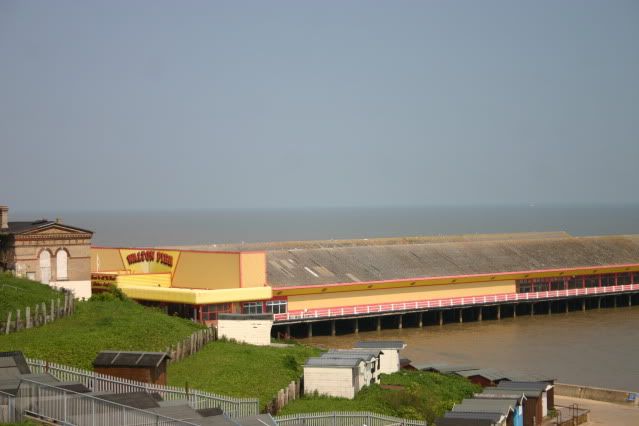 We arrived around 3pm, and having had a good nap (oh yes, the boy actually took a nap!) it was clear Alfie and Esme were super excited!
And, with the tide high (something I was keen to note as I'd brought a rod with me) we took a walk along the front and gave Alfie a chance to go mad on his bike. The tide was right up against the sea wall but as we rounded a corner a different part of the beach opened up presenting us an opportunity to get down on the sand. With only a handful of people about we were down on our beach towel before a Germans key could even rattle in the hotel room door!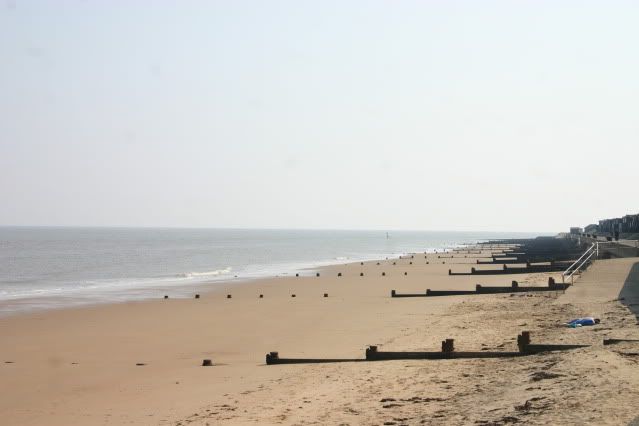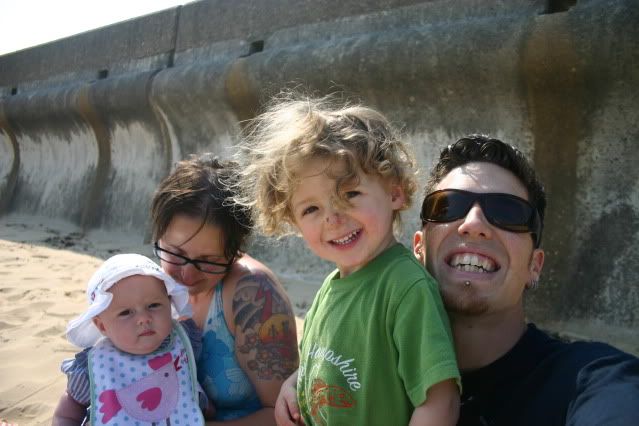 And so Esme had a paddle and Alfie had a play. With so much space I'm not sure he quite knew what to do with himself! Having got his toes wet he went wild in the sea, and as you can imagine soon had his clothes removed before the inevitable 'toddler lack of talent/balance' reared its beastly head.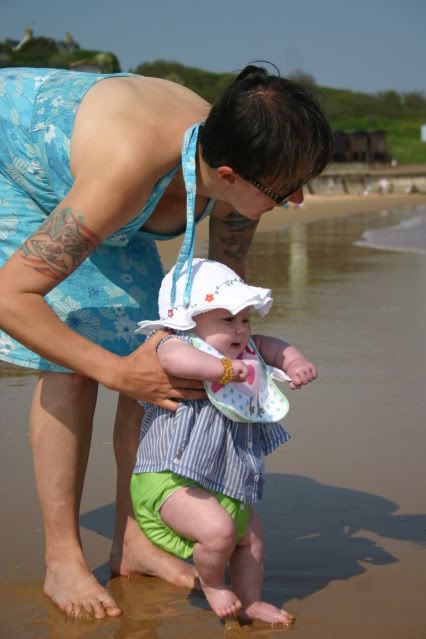 Having enjoyed a few hours on the beach our tummies were begin to rumble, but instead of Gruffalo crumble our favourite food is Fish and Chips! And so took a walk back to the car with a quick detour to have a look at the pier which was also much as it had been 20 years ago ... although not much opens until June. As Tash spotted though, it has a very sweet script above its entrance.
We found a place close to the seafront and enjoyed dinner looking out across the waves. To top it all it was probably the best Haddock and Chips I'd ever had! Pictures of this part of our day are non existent, we were both too busy trying to make sure we got some food inside us before the kids devoured everything. Esme might have only recently started weaning but she'd stolen scampi from Tash's polystyrene tray and soon as the wrapper was opened!
And so with full bellies we departed the sunny seaside town of Walton-on-the-Naze. As Tash is still job hunting its hard to justify spending money, but the time we all have together is worth a fortune to us and today was simply magical ... a definite justifiable expense, which is a good job as this day trip will probably end up with the tag 'Family Holiday 2012'.
We took over 70 photo's during the day, if you wish to see the rest they are
here
.