And clearly we must be monkeys, as this is our fruit bowl!
Now Alfie loves bananas, and as a result we order them from Abel & Cole each week in addition to our weekly fruit and veg box. Of course sometimes bananas are included in the box too. But thats OK, we can get through a lot of bananas in this house!
There only comes a problem when Fred and Lyd visit and bring with them a hundred weight of bananas too!
Really its not a problem as once they become a little over ripe they are perfect to freeze and then make into smoothies (Nigella has a recipe thats a perfect hangover cure!)
However with no space in our fruit bowl I needed to do something to reduce our numbers. I make a chocolate orange cake pretty much every week, but with so many bananas I decided to hunt out a banana loaf cake recipe.
The full recipe is
here
, but heres a summary of the ingrendients. Hmmm vanilla, always a winner!
225g self-raising flour
Pinch of salt
100g chilled butter, cut into pieces
100g light muscovado sugar
2 medium eggs, beaten
1 tsp vanilla extract
400g ripe bananas (weighed with skins)
1-2 tbsp milk
I was missing light muscovado sugar and so had to make do with light brown sugar, and next time I would check it at 45min instead of 55 mins. This is how it turned out though.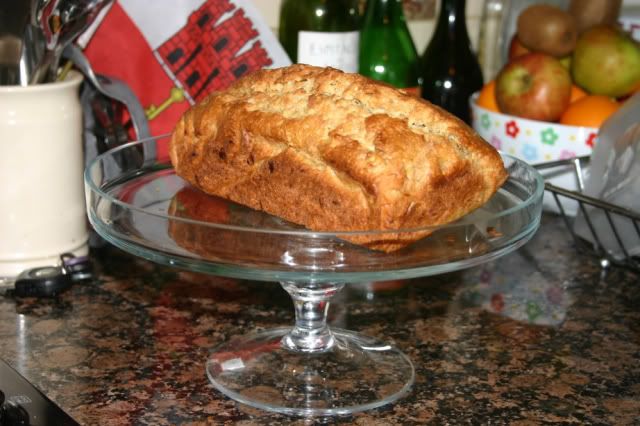 Its very nice. Though I have to be honest, I do prefer chocolate orange cake.
Not to worry though, cos Tash then pointed out her Mum and Dad brought oranges too! And of course we already had some in the bowl, AND Abel & Cole delivered some this week!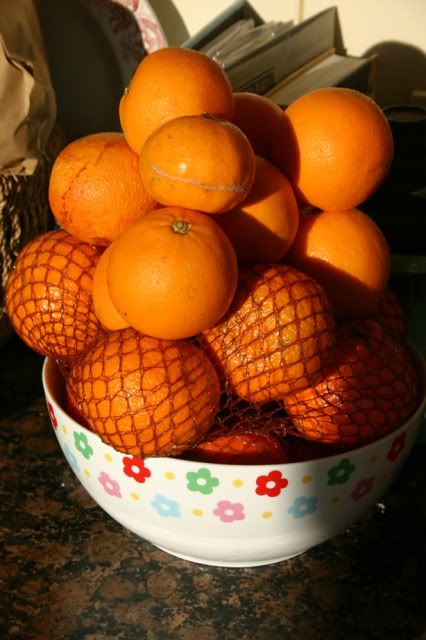 Guess what I'm making today!