I've been a little slow in updating the blog recently, perhaps due to my reluctance to sit down for long periods.
Perhaps that seems an odd statement to make, but a couple of weeks back (Friday 8th July) Alfie and I made the trip down to Devon to deliver Red to his new (old) home. Red had become increasingly anxious around Alfie, and it was clear his quality of life was deteriorating as he shifted around the house to stay away from the little thing that likes to yank doggy's ears. Tash spoke to Angela, the lady we had got Red from, who jumped at the chance to have him back - her daughter still has his name scrawled on her schoolbooks! And so,
four years and four months
after we collected him, I embarked on a dog related journey to deepest darkest Devon to return him to from where he came.
We entered Alfie's room before 6am, and were greeted with an unbelieving "Oooooh Nooooo!" as he was awoken from his slumber . With the car loaded with drinks, roadsnacks and CD's, we were sticking £70 worth of finest 95RON in the Benz and leaving Tash in Rickmansworth by 7am. Come 10:30am we were at our destination having only had to pitstop once! I truely couldn't believe how well the journey had gone! Considering I was travelling around 500 miles in a day, accompanied by an 19 month old child and a car sick dog, is it any surprise I had been preparing myself for a journey as stressful as the one endured when we tried to
day trip to France
in December?!
We had some time to kill and so wandered down to a local pub to relax and enjoy a coffee. Well, what actually happened was I had a coffee, Alfie ran about and climbed over the sofa and Red did a poo in the car.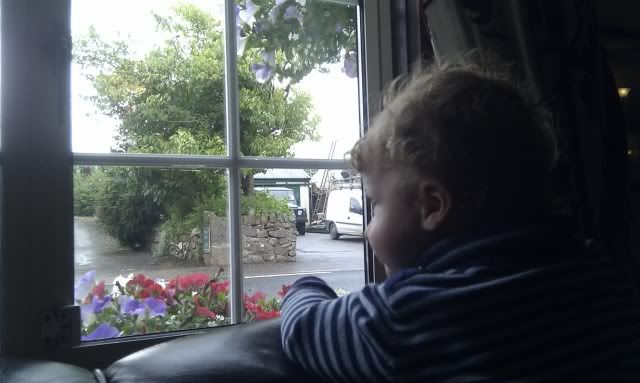 Still, we managed to get the formalities done by 12:30pm which meant I was still doing good for time. As sad as it is to rehome a dog, he certainly seemed to remember the house and the people, and his tail was high the whole time I was there - it gave me peace of mind that he was happy to be there, and also that he we had done well by him to see him so confident so far from 'home'. As a nice reminder, here's one of my favourite photos of him.
Leaving at 12:30pm, and based on a return journey like our outbound, we should hit Rickmansworth for 4pm ... exactly the time Tash finishes work! You can see where this is going, can't you? Cruising at 70(ish) the Benz was munching the miles, and the boy was being surprisingly chipper ... until we hit the M5 outside of Bristol where everything came to a standstill. But the boy was asleep, so it was OK. However, two hours later and we were still in previously mentioned traffic jam ... and now Alfie was awake. And unhappy. And hungry. And thristy. And his arse was numb (i'm guessing that bit, but mine was so his must have been!). We got through it though, but it was already clear we were going to be late to meet Tash from work. But progress was swift and for a time we were making good progress ... until the M4 decided to stop outside of Swindon. Another hour was spend crawling along yet another horrific British motorway, which passengers in the Mighty Benz passed by waving at similarly frustrated passengers, trying to catch the magic uppy downy window, and generally playing with ones feet. I have no idea what time we made it through, but after eventually navigating the rest of the M4 and then the M25 we made it to Rickmansworth. It was gone 7pm, over 3 hours since Tash finished work! We had only managed one stop on the way back, and so we decided to reward Alfie with a meal at the Chinese before completing the last hour of the journey home. On the whole he had been fantastic, and crispy chili beef was just what we needed to raise our spirits! We got home after 9pm, 15 hours after we had left in the morning - and poor Alfie woke up the next morning sporting a bruise on his backside from all the hours in his car seat!
So that's Red in a new home, but he wasn't the only one. After Alfie showed a consistant joy at playing in playhouses, and tactically choosing to get attached to one at Mothercare, we decided to get him a little home of his own. Tash detailed it fully in
her blog
but he is loving having a door of his own to swing on! How long do you reckon till I find him sat on the roof?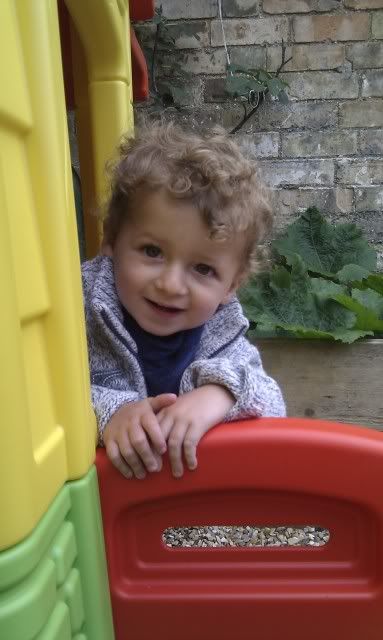 And so with the Alfie and the Red sorted that just leaves Tash and I. We're writing this down on an I.O.U as we're sure our time will come to call this one in!