I love it when June comes around, it means it will only be a matter of days until I can collect cherries and that means Sour Cherry Pie! Best of all it means I get to climb trees!
However this years sour cherry pie was going to be different! Tash came up with the idea when we were putting together Bake Off recipes, and although there was zero chance I would ever have actually made this (due to the fact it would have been 6-8 weeks too early) I thought it was such an awesome idea we had to give it a go this year once this years cherries filled the trees. The plan was to take my traditional cherry pie to the next level with a 'meringue twist' - my first ever meringue pie.
So click back a couple of weeks and I'd just got back from the fishing trip. I took the dogs out for a walk, and took a route that takes me over the railway line to check out the cherries. As I approached the row of trees I could see an endless collection of cherry stones on the floor - the birds had beaten me to it!
As I walked on feeling pretty annoyed I happened to look up, and was greeted with a sight of unrivaled beauty! (?) I didn't even know that tree was there!
And so that evening I wandered back over to the tree, and armed with a Waitrose plastic bag I set about collecting as many of the little bubbles of cherry filled joy as I could gather!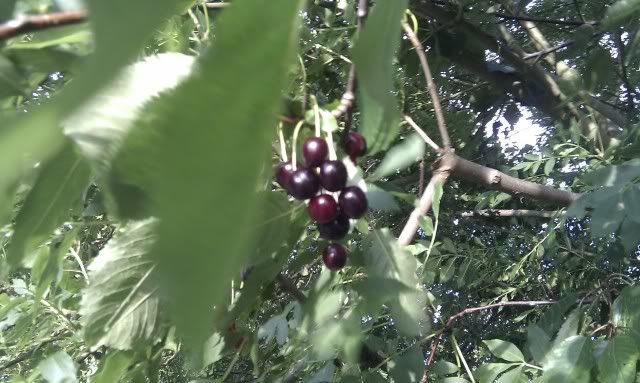 The next few evenings saw me revisit the tree and in totally I took over 2.5kg of cherries AFTER they were stoned. Ah yes, the stoning. Much time was spent amidst the following layout. Cherries, stoner, bowl for stoned cherries. Every evening I ended up with backache and stained fingers, but no pain no gain, right? Thankfully the accompanying glass of Rioja helped ease the pain and monotony of stoning 4275 cherries (well it seemed that many to me anyway!)
Knowing I was going to make a meringue I decided to give my baking a kick up the backside and bring it into the 21st century - I bought an electric handmixer! These kinda gizmos go totally against my way of baking, but I knew the meringue was gonna be hard work without one, plus there was a certain something that sold it to me!
A rough recipe was drawn up, pastry was made, a boat load of sugar was added to the cherries and I set about making the meringue pie. Putting my 'turbo' button to good use I made the meringue, and got the pie swiftly in the oven.
A quick peek in the oven confirmed one of my worries - there was way too much juice from the cherries! Still, that's easily amended for next time and overall I was pretty pleased with the way it came out.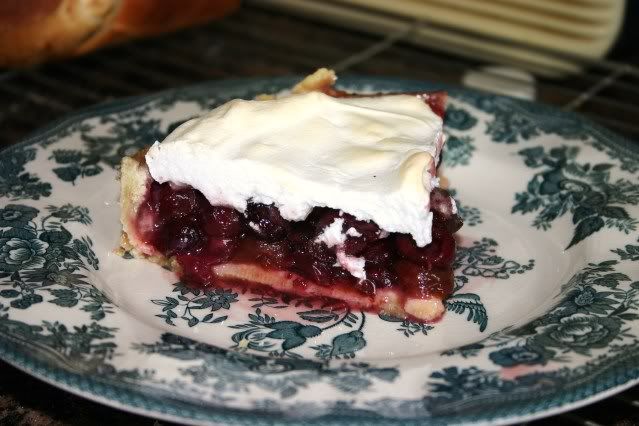 I'd probably go for a touch more meringue next time, but it tasted bloody amazing - quite possibly nicer than
my sour cherry pie! Alfie certainly seemed to think so!