I love the four days of Eater and this year the forecast was H.O.T. This was good news as we had plans! Good Friday = Wheels Day, Saturday = James & Michelle's wedding, Sunday = chop off the bus roof, and Monday = a family trip out to Santa Pod.
We were up and out early on Friday to head down to Aldershot for Wheels Day. We've been heading down to this show for years, and it was lovely to have gorgeous sunshine ... just as I remember it when I first cruised down to the event with Larry when it was held at Brooklands. Not only is it a fantastic day out, it's also the perfect opportunity to start spreading word about the Gathering. We took a picnic, had brilliant day, and I even came away with a new (to me) land speed record book. Suncream at the ready, the temps were up close to 30 degrees and it was a welcome relief to bump into our friends Steve and Kim and chill with them in the shade their camper provided. They have a young daughter, Lily, which also gave Alfie the perfect chance to practice his kiss-chase technique.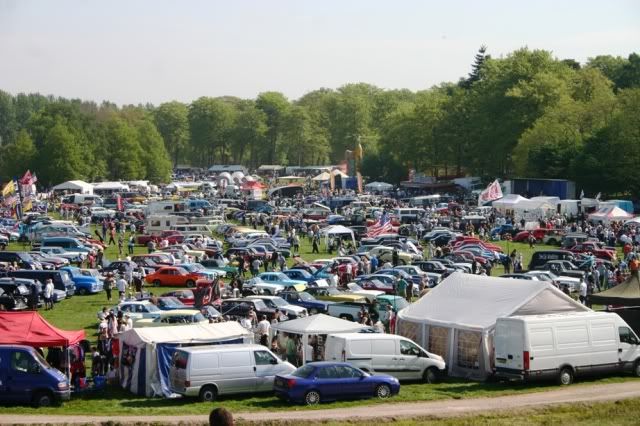 We went straight from Aldershot down to Ammie and Tom's in Theale, near Reading. We had a lovely evening there, and were treated to one of the nicest curry's I've ever had - all cooked in house to a secret recipe by them both.
We got our heads down early as we had alarms set for about 5am. A quick shower and we were out the door on our way to Bath by 6. When I found out James & Michelle wanted to get married at 8:30am I must be honest in that I muttered a few choice words in their direction ... but with temperatures once more pushing top twenties it now seemed like a godsend! I was a first class idiot and left my camera in the car, and as such have no photos of their memorable day. They got married within the Roman Baths - well, not actually IN the Roman Baths - and it was a beautiful background to a wonderful morning. Its lovely seeing two friends doing something so special, and Alfie was extremely happy at being able to wander around a giant puddle for a few hours pointing at pigeons. After the service came the reception - which was breakfast! - and by the time we vacated for photographs the sun was high in the sky. We hit the road by early afternoon, and managed to be home before dinner.
With a little time before his evening routine kicked in we tried to make up for the fact he wasn't allowed to jump in the Roman Baths. A bucket, a hose, and a rubber duck ... what more could a 18 month old want, right!?!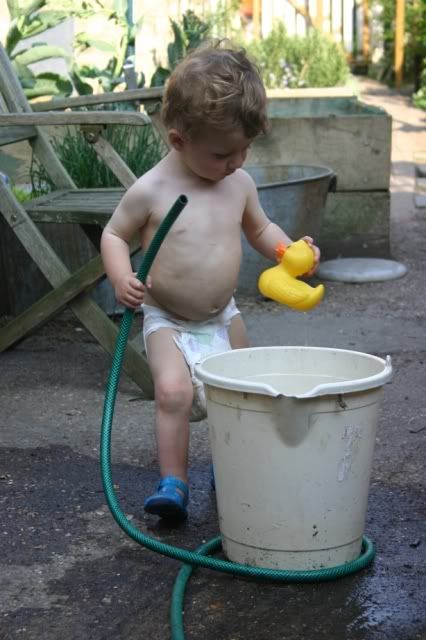 And, as always, he couldn't leave Harry alone.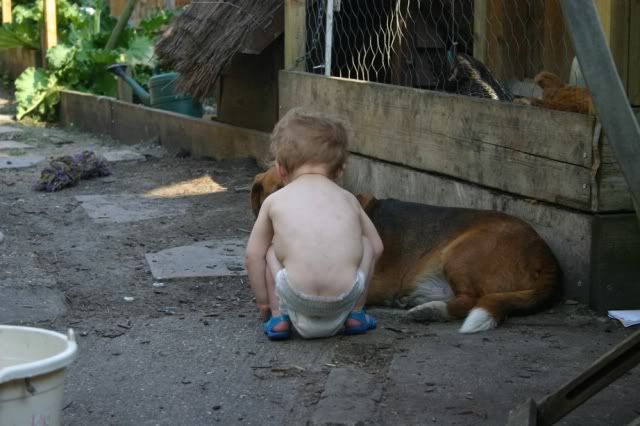 He does seem to think that a hose can suck up water. And then miraculously deposit water where he wants it to. The mind control powers of this one must be strong!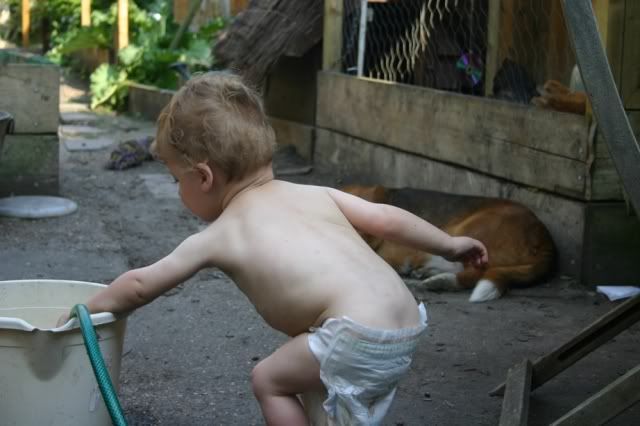 But if he's still wearing his pants like this in 16 years time then I'm really gonna have to have words with him!
Monday soon rolled round, and Bill rocked up nice and early for us to chop the roof off the bus. The full day is documented in my
Retro Rides Build Thread
but we had a very productive day and by 6pm (when Bill had to leave) we had the roof swinging in the breeze!
Feeling content with life I proposed a family day out to Santa Pod for Monday. For me this was a win-win situation. A family day out = bonus points with SheWhoMustBeObeyed and it also means we all get a day out watching fast cars. Easter at Santa Pod is always the Easter Thunderball event. More often than not its engulfed in damp weather, but for this year the weather held and we were greeted with another gorgeous day.
Having left Alfie's new pair of shades at Ammie's on Friday we treated Alfie to his first baseball cap to shade his poor little eyes from the burning sun.
First up we headed straight for the pits to catch up with our good friends Rob and Polly. You can guarantee they're gonna be there as if one of them isn't racing you can be sure Rob will be sat around waiting for the first excuse to stick his head inside a stricken competitors engine bay.
On our way round we passed the awesome Evil Knievil roadshow.
It was great to natter with Rob and Polly, but after a while Alfie got restless and there's only so much mischief and meandering you can let a youngster get away with in a pit area ... and so we made our way round to the opposite side of the track to sit on the bank and see some of the action.
We took in a few races pit side as we took a slow wander round.
With the weather being so fantastic the bank was packed!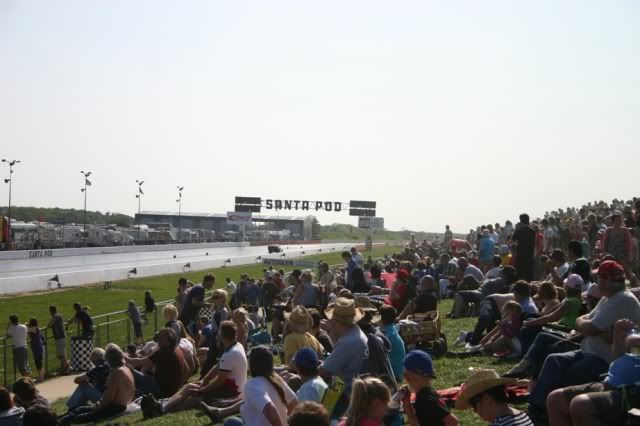 Amongst the highlights was this crazy electric powered Beetle. It uses two forklift truck motors ... and runs 9's!
But as we all know, motorsport can be somewhat hypnotic and after a lovely picnic it wasn't long until Alfie was fighting the desire to fall asleep to the backdrop of rumbling V8's.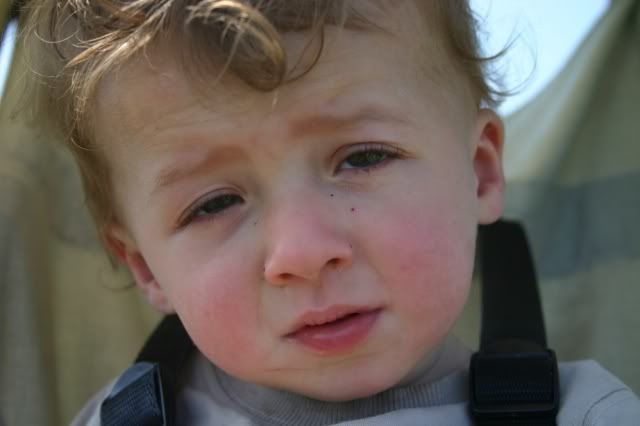 Whilst he slept we sat back and enjoyed the racing ... but thankfully he was back with us for the grand finale! The Top Fuel Shootout final - 8000bhp dragster vs 8000bhp funny car. If has hadn't been awake already, the noise of these two monsters would soon have had him back with us ... and so it was time to cover your ears!
Wanting to see the race, photograph the race, and not burst an eardrum I focused the camera on a set point. With my left index finger in my right ear, my left ear squashed against my shoulder I got ready to fire off the camera and hopefully get a few decent shots during the 5 seconds it would take for these monsters to roar down the quarter mile. Thankfully, I got lucky ... with flames roaring from all exhaust pipes!
The perfect way to finish off an amazing four days !!