About a month ago I decided I wanted a new bike - I do miss riding about, and my fitness and stamina are atrocious these days. After learning of the savings that can be made through the cycle to work scheme Tash and I visited our local bike shop to check out Kona's as I had set sights on a Kona Steely. The chap spoke highly of the bike, and it was decided that when Tash's scheme kicks back in that will be the bike I'll have. I also spotted an old bike he had hanging up on the wall which he had converted to single speed. Clearly I don't have enough irons in the fire, and this gave me the idea to convert my old mountain bike into a stripped out single speed cruiser - after all, it won't be needed as a mountain bike anymore!
The brief was simple - as minimal as possible, with the aim of being ridden around show fields and towing Alfie around.
I've had the bike since I was about 16, and it was last used about 3 years ago. Since then its lived outside and been half swallowed by the undergrowth on a fair few occasions - all in all it was looking quite sorry for itself, and all moving parts had rusted solid.
First off I stripped it down. You can see all the redundant parts in the dog bowl! All the shifter assembly, derailer mechanicals, bar ends and rear sprockets were no longer needed!
I paid another visit to my local bike shop and came away with new cables and sheaths for the brakes, new front V-brake callipers, and ordered the rear 16 tooth single sprocket conversion kit.
The new front brake was to replace the old one which had somehow destroyed itself in the past. It always feels good to fit new parts!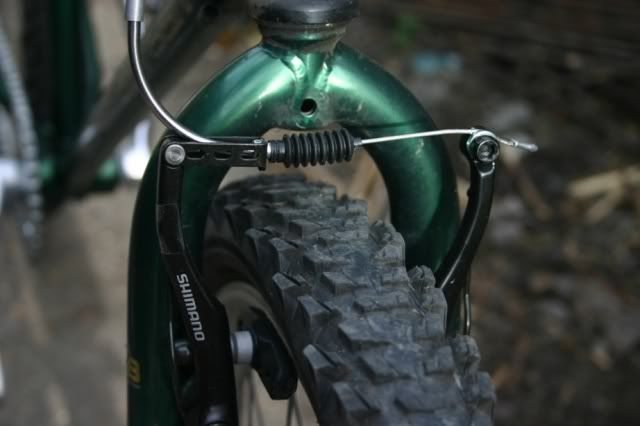 With cranksets looking expensive I hopped on ebay and ordered a single 33 tooth crankset. This arrived soon after and I was looking forward to hitting the road!
But then came Easter, and shortly afterwards the Royal Wedding. This apparently delayed the arrival of my single sprocket kit and I was left twiddling my thumbs for a fortnight. Thankfully the kit arrived on Friday, and Tash collected it on her way home, along with a new chain. Sunday presented me with an opportunity to finish things off and so after a brief visit to Halfords I had everything I needed.
Single sprocket correctly spaced, chain tensioned, new hub bearings fitted and I was ready to set up the brakes around the slightly buckled wheels.
It didn't take long though, and soon after I was ready to embark on my first shakedown ride.
With the test ride showing no suspicious knocks or noises, yesterday I saddled up Alfie's cart to see if it would haul him along OK.
Whilst cruising up West Drive I hung my phone behind me to grab an 'action' shot of him ... and to see how petrified he looked!
Its fair to say he loved it, and even though we were only out for about half an hour I think it will be the first trip of many. And with fuel prices being so high I might be tempted to use it even more ... if my legs can take it!
And altogether its cost me something like £60 (of which half of that came from my Grand National winnings!), which is an absolute bargain considering the amount of use its now going to see.