As Saturday approached I realised it might just be the most perfect day for me. It wasn't intentional, but as things panned out I ended up with a daily itinerary of morning - steam fair, afternoon - football, and evening - cinema to see TT3D!
We were up early to get to Stotfold Mill for the 10:30am opening. The watermills annual event is always a 'must do' for us, largely so I can go see the Wall of Death! This year we were joined by my Dad, Team Ferg and Claire and Sean with Jamie. Everything steam powered is there for your enjoyment, from big fairground rides to small novelty engines.
We were one of the first through the gates and immediately hit the stand selling various seedlings. I managed to walk away with 12 marigolds (not washing up gloves!), a courgette plant and an apache chilli plant for just over a fiver! Bargain! And straight after stumbled across the chap selling model cars. I failed to find the corgi model of Bluebird, but Alfie came away happy!
After showing Alfie the birds of prey display we made our way towards the mill itself to show my Dad around. The mill was restored a few years ago after being demolished by fire in the 90's, and some of the work that has gone on is simply amazing!
My annual trip to the coconut shy followed soon after. 12 balls for a pound! Dan kicked things off by hurling balls at crockery, and then Dave and I got stuck into the totally tropical fruit!
And I came away with a lovely pair of coconuts!
With time ticking we parked up the buggies and all stepped inside the wooden cylinder that is the Wall of Death.
For anyone not familiar with the Wall of Death ... they ride around it! Up and down, sidesaddle, no hands ... its the best entertainment you can get for £2 - fun for all the family!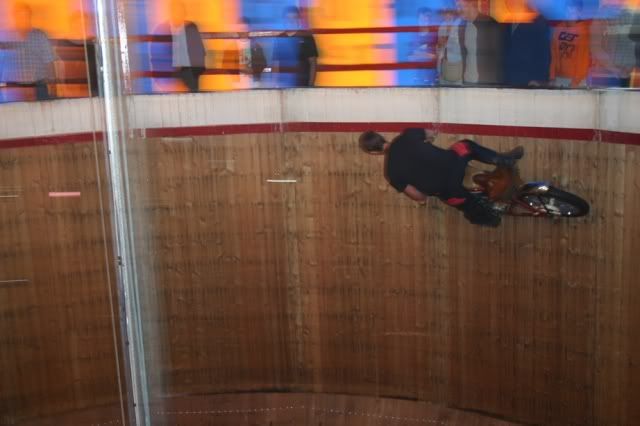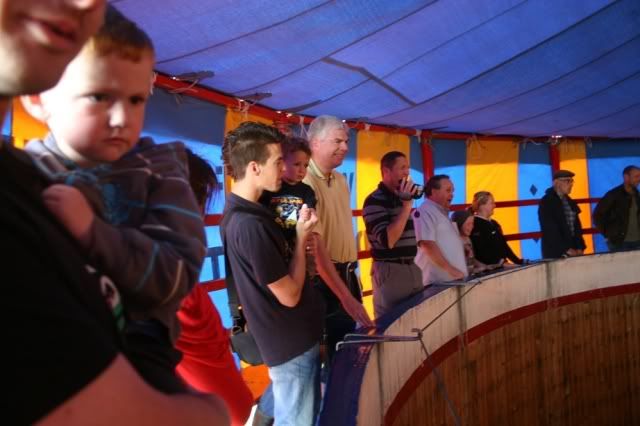 We then made a line for the marquee to enjoy a bite to eat and a well deserved ale. Time passed too quick and before we knew it was 1pm and time for Dad and I to head off to Villa. Sounds like they all had fun in the afternoon though, and the little ones all enjoyed rides on fire engines ...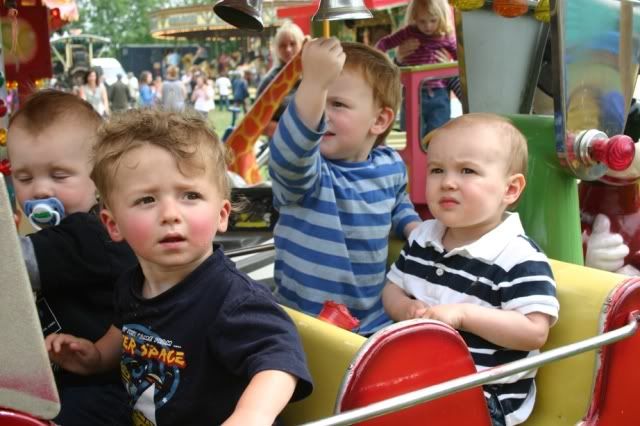 swinging chairs ...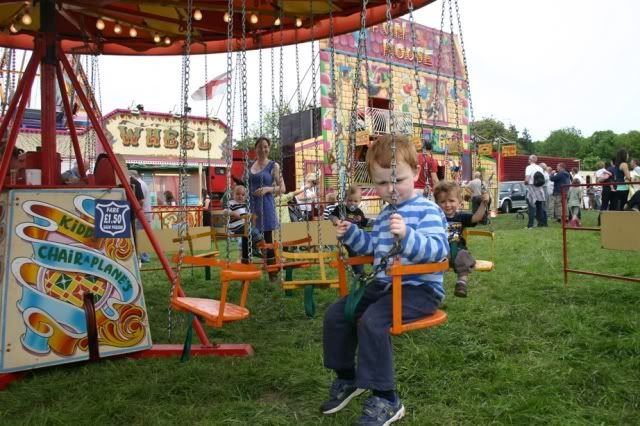 and even mini-motos!
We arrived up at Villa Park in good time, it was just a shame we had to watch a dreary 1-1 draw against Wigan.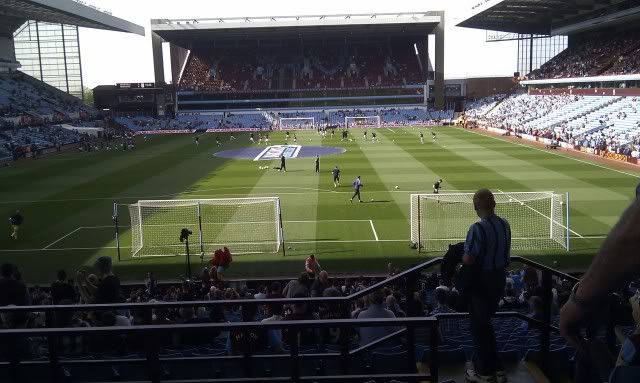 After a slow exit out of the car park we made it home just in time for a bite to eat, a quick dog walk, and then Tash and I ran straight out to head to Milton Keynes - leaving my Dad looking after Alfie, who at 8pm was still playing in his room some 2 hours after being put to bed!
The reason reason for our jaunt to MK was for our first 'date' since Alfie was born, and our first experience of 3D cinema! The film in question? The documentary about the Isle of Man TT, filmed last year when Ian Hutchison won all 5 races, and largely focusing on Guy Martin a rider who I have long been a fan of.
Tash and I spent our £30 (HOW MUCH?) and in return got a pair of tickets, pair of 3D goggles, small drink, packet of Randoms ... and of course some popcorn.
Before long it was time for us to enter the world of 21st century fashion - 3D time!
Although we look like we should have gone to Specsavers I have to say 3D cinema is bloody amazing! Cars 2 is coming out this summer, and the trailer was the first item up and looked totally breathtaking!
Thankfully we were just as lucky with TT3D, and we thoroughly enjoyed our night out.
But please tell me why, when the cinema is damn near empty and there is no-one else sat in our row, does some chap decide that the seat next to me is the perfect one for him to sit in??